Back
Finding The Perfect Hunting Ground: The Grove at Poronui
– Hunting Experiences
The Hunting Estate at Poronui encompasses 3,000 acres of the 16,000 acre property. The massive game park is a diverse and challenging stalking environment comprising of forest, native scrubland, grass clearings and cut pine tree faces. Four species of deer, plus arapawa ram and Pacific wild goat call it home.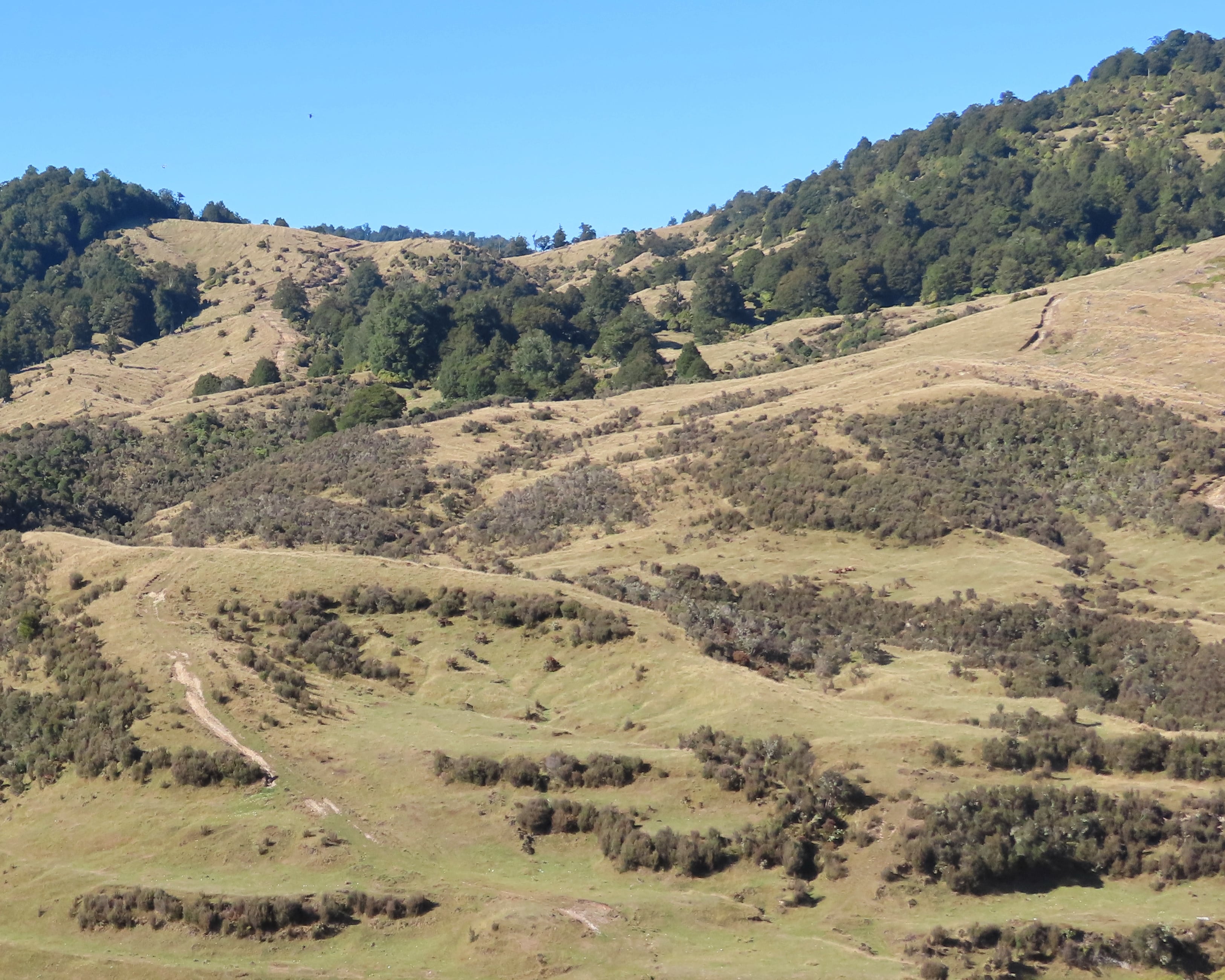 The Grove
After several visits I know the terrain well and one of the locations I always visit is a place I nicknamed The Grove. This extensive heart shaped native bush reserve is a stunning deer habitat and is a sanctuary for resident rusa, sika, and fallow in particular because it provides plenty of food, warm hillsides and a refuge to hide in when danger is detected. A deep gully and small stream runs down the middle of the grove and the main sunny face has a great view over the lower end of the park where red deer are more concentrated. The Grove has some of the tallest beech trees in the estate, and ground vegetation consists of ferns, supplejack vines, native shrubs and grass clearings.
The Grove is a rutting hotspot for rusa and sika stags, and fallow bucks because of the numbers of deer that live in or live in proximity to it. The prominent ridges draw mature rusa stags like a magnet, sika stags seem to always be lurking in the gully scrub and fern, and lately fallow bucks have also laid claim to territory on the fringes.
The Perfect Hunting Ground
On either side of The Grove, roads run parallel to the central gully and these roads allow hunter access and spotting. The left hand road (going up the hill) allows hunters to view the vegetation covered opposite face and if a trophy is spotted a careful stalk in behind one of the fallen beech tree trunks will allow a shot to be taken. One historic log is in a perfect shooting spot and I imagine over the years numerous top trophies have been secured from this vantage point.
The right hand road (facing up the hill) is best approached from the top as at the crest there is a side foot track that hunters can use to sneak into The Grove unsighted. You are behind enemy lines here and animal encounters will be really close because of the tight undergrowth. This wander is a highlight of any hunting trip as you can hear deer all around you, but spotting them undisturbed is hard. If you manage to stalk past the sentinel deer on duty you will get a view over the grass clearings where deer live, feed and rut. Many trophies are shot from here. However a bark or squeal indicates you are busted and the stalk is over for the day as all residents melt into cover.
Greg Morton
One of New Zealand's longest hunting/fishing profile journalists. Outdoors writer since 1987. Past positions include New Zealand correspondent for
The Hunting Report
;
The Bird Hunting Report,
and
The Angling Report
, and writing a regular hunting article for
New Zealand Outdoor
for 30 years. Presently writes a monthly article named Fair Chase for
New Zealand Fishing News
and a hunting blog for Poronui, while continuing his passion for hunting, fishing, and wildlife photography. Lives in Alexandra, Central Otago.
Get In Touch
Want to ask a question about Poronui, personalise your vacation with bespoke itinerary options or find out about available dates? We would love to hear from you!

Simply fill in your name and contact email address with a short message and we will get back to you.