Back
Thanksgiving with a kiwi twist
Would we be forgiven if we celebrated Thanksgiving with a Kiwi twist for dessert?
Steven, our Head Chef, is a fan of sourcing the best and then adding the secret ingredient.
Lodge Manager, Eve says "I feel quite proud as his go-to recipe for pastry comes from my Mum's hand-written, well used recipe book. It has also been shared with renowned Kiwi chef Al Brown, who describes it as working equally well for sweet or savoury fillings, and has the attributes of both short and flaky pastry."
Ingredients
2 ¼ cups (340 g/11 ¾ oz) plain flour
225g (8oz) cold butter, cut into 1 cm (½ inch) dice
Pinch sea salt
½ cup (125 ml/4 fl oz) cold water
1 egg yolk
Method
Sift the flour into a large mixing bowls and add the salt. With clean, cold hands rub the butter into the flour with the fingertips until it resembles chunky breadcrumbs. Do not overwork; there should be plenty of visible chunks of butter.
Whisk the cold water and egg yolk together.
Add the liquid ingredients to the dry ingredients, and mix to form a dough. Again, it is paramount that you don't overwork the pastry. It's done done when it just comes together.
Wrap in clingfilm and refrigerate for at least 30 minutes before rolling out.
Would Thanksgiving dinner be complete with a choice or indeed a slice of both Pumpkin Pie and traditional Apple Pie?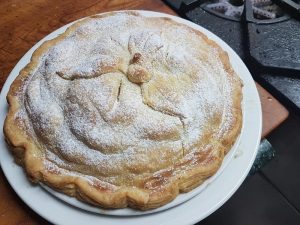 PUMPKIN PIE
Eve's Mum's Pastry
Pumpkin pie filling
Pumpkin Filling
3 large eggs
100g of soft goat's cheese, crumbled (I like Rosary goat's cheese)
260g of pumpkin purée, (from a can or make your own – see above)
3/4 tsp salt
1/2 tsp freshly ground black pepper
1/4 tsp smoked paprika
1/4 tsp freshly grated nutmeg, plus extra to decorate
120ml of whole milk
3 tsp lemon thyme leaves, plus extra to decorate
3 figs, large, halved
Method
Preheat the oven to 190°C / 375 F
Roll the pastry out on a floured work surface to around 5mm thick, then use to line a 9cm loose-bottomed tart tin, pressing it into the edges of the tin with a smaller ball of pastry. Trim any overhanging pastry
Line the pastry case with baking parchment and baking beans. Bake in the oven for 25 minutes, then remove the baking beans and parchment and bake for another 5 minutes, until the case is light golden and firm
Meanwhile, make the filling. Whisk the eggs and goat's cheese in a large bowl or jug until completely smooth. Whisk in all the remaining ingredients, except for the figs
When the tart case has baked, leave to cool for 5 minutes then carefully pour the filling mixture into the case
Arrange the half figs over the top of the filling
TRADITIONAL APPLE PIE
Eve's Mum's Pastry
8 – 10 cooking apples or granny smith
Sugar to taste
Method
Preheat the oven to 225°C / 435 F
Roll the pastry out on a floured work surface to around 5mm thick. Line a 30 cm / 12 inch flat plate.
Peel, core and thinly slice the apples and pile on top of the pastry. Sprinkle with 2 tablespoons of sugar.
Roll out a second round of party and cover the apples. Seal the edges with water. Scallop the edges.
Cook for approximately 45 minutes or until the apples are soft.
Dust with icing (confectioners) sugar and serve with softly whipped cream.
Just add friends for an evening of fun!
Get In Touch
Want to ask a question about Poronui, personalise your vacation with bespoke itinerary options or find out about available dates? We would love to hear from you!

Simply fill in your name and contact email address with a short message and we will get back to you.